Road Marking
Professional Road Marking
We at Hydroblasting are a professional company that can take care of all of your road marking requirements. From public roads and car parks to warehouses, we have road marking services for you. Our advanced machinery combined with our skills and experience means that we can deliver fantastic results. So, if it sounds like our services could help you, get in touch today for a FREE quote!
Get in touch with us today
Road markings (or line markings) are markings on road surfaces, pavements, concrete, or tarmac to communicate information to motorists and pedestrians. The information communicated by road markings includes directions, lanes, zones, speed limits, parking, stopping and safety. These types of road markings are typically used in:
Car parks.
Bus lanes and cycle lanes.
High-traffic zones.
Road safety markings.
And more.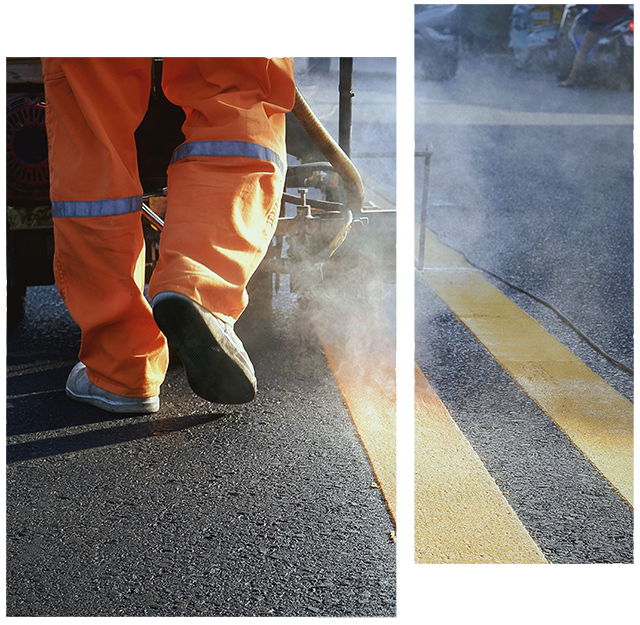 If you're a local authority or commercial client and have been looking for line and road marking services, then we have the solutions for you.
What are road markings made of?
Road markings are typically made from thermoplastic paint, a material consisting of synthetic resins and premixed glass beads. Thermoplastic paint is hard-wearing and dry on contact. Furthermore, it meets the performance requirements of BS EN 1436.
How are road markings applied?
We can apply line markings using our advanced road marking machinery or by hand. We also use stencils for accuracy where symbols need to be applied. The thermoplastic paint is heated before application and is then sprayed onto a surface using specialist machines.
How long do road markings take to dry?
The thermoplastic paint used to apply road markings boasts fast drying capabilities and can be dry within five minutes! This means that you can walk and drive on the surface almost immediately for minimum disruption and downtime.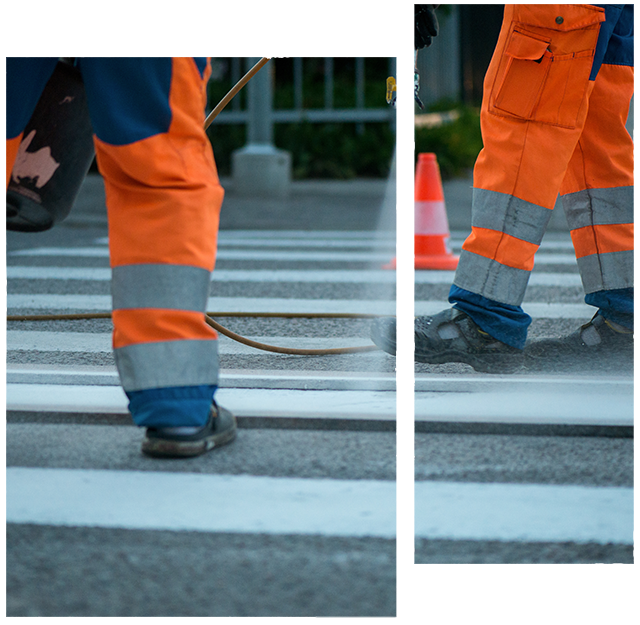 Is it possible to remove existing line markings?
Yes, in addition to applying road markings, we can also remove them if required. Using an advanced, compact road marking removal machine we can strip markings from almost any surface including tarmac, concrete and more. This machine uses a hydroblasting technique and blasts clean, cold, filtered water at a regulated pressure across the targeted surface.  As hydroblasting only uses water, it is incredibly environmentally friendly and contains no toxins. Furthermore, we dispose of all wastewater in line with Environment Agency regulations.
Why are road markings important?
How much do road marking services cost?
The cost of road marking services will vary depending on several factors, therefore we recommend getting in touch with us for a FREE quote.
In addition to road marking services, we offer an extensive range of other services including:
Hydroblasting.
Removing Chewing Gum.
Removing paint.
Removing oil, grease and fuel stains.
Removing rubber.
Cleaning Car Parks.
Cleaning Driveways.
And more!

FREE Quotes
We provide FREE quotes on all of our services. In addition, all of our services are competitively and affordably priced.

24-Hours a Day
We can undertake a range of road marking services around the clock. This means that we're on hand 24 hours a day if you need us.

Customer Satisfaction
We value your satisfaction and are committed to delivering fantastic results. Get in touch with us to see how we can help you!
If you've been looking for professional road marking services, then please don't hesitate to get in touch with us for a FREE quote!